Introduction

Yakuza promises to drop you in the middle of a crime drama and Sega's rendition of the notorious society is, if nothing else, an immersive one that also promises a lot of back alley street brawling. Kiryū Kazuma is the main character that has hailed from the very first game instalment. He lost his parents at a young age and was raised in the Sunflower Orphanage where he met Nishiki Akira and Yumi Sawamura. After graduating from junior high school, he and Nishiki were introduced into the Dojima Family, Tojo Clan's most powerful subsidiary. As time flows to 1995, the 27 years old Kiryū had everything going well for him and had planned on starting his own subsidiary group until an event changed his life and was imprisoned for ten years. After his release in December 2005, Kiryū returned to his home town Kamurocho for answers and was told to search for Yumi, and yet, a mysterious young girl appears before him during a wake of an incident and came to rely on him.

(For a more detailed article, please refer here.)
Yakuza Titles
Featured Articles

Yakuza Ishin aka Ryū ga Gotoku Ishin! is the latest spin-off released for both PlayStation 3 and PlayStation 4 in Japan on February 22, 2014. Additionally, a free app for the Playstation Vita was also available as a tie-in. Like the previous Yakuza Kenzan spin-off, this game is also set in historical Japan, back in the chaotic Bakumatsu period.
(Read more)

The main character featured in this column is Sakamoto Ryoma, featured in the latest Yakuza Ishin game. In the game, we look at his humble beginnings and then distress from society pressures and goals, that led to his adventure in Kyoto and his induction into the Shinsengumi!
(Read more)
Welcome!
This wiki is about "Yakuza",
a series of games aka "Like a Dragon"
(龍が如く, Ryū ga Gotoku).


We currently have 432 articles. Our admin is Yimbocarimbo. You may want to see
the Recent activities and Recent Changes on the wiki currently.
Featured Video
The Official Trailer of Yakuza Ishin
Contribute to this wiki
To write a new article, just enter the article title in the box below.
Not sure where to start?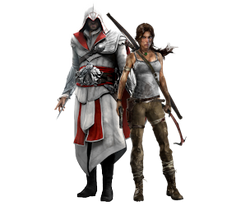 Action-Adventure Games
Go to these sites for info or for help with your own wiki!
ARK: Survival Evolved • Assassin's Creed • Bayonetta • The Binding of Isaac • Darksiders • Days Gone • Devil May Cry • Dragon's Crown • Fran Bow • God Eater • Grand Theft Auto • Gravity Rush • HITMAN • Horizon Zero Dawn • InFAMOUS • Just Cause • King's Quest • L.A. Noire • The Last of Us • Legacy of Kain • Legend of Zelda • LEGO Dimensions • LEGO Games • LEGO Marvel and DC • Lightseekers • Mafia • Metal Gear • Monster Hunter • Ninja Gaiden • Ōkami • Prince of Persia • Red Dead • Senran Kagura • Shenmue • Sleeping Dogs • Splinter Cell • System Shock • Tomb Raider • Uncharted • Watch Dogs • Yakuza
Want your community included? See how!

Ad blocker interference detected!
Wikia is a free-to-use site that makes money from advertising. We have a modified experience for viewers using ad blockers

Wikia is not accessible if you've made further modifications. Remove the custom ad blocker rule(s) and the page will load as expected.