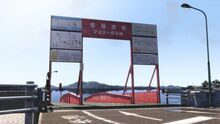 When this city was overflowing with prosperity, this was a ferry landing with ferries loaded with people coming and going. Now, that prosperity has long vanished, only the deserted boarding dock remains. However, since fishing boats that come along the pier still seem to use it, it still appears to be an important facility for the people of the town.
Ad blocker interference detected!
Wikia is a free-to-use site that makes money from advertising. We have a modified experience for viewers using ad blockers

Wikia is not accessible if you've made further modifications. Remove the custom ad blocker rule(s) and the page will load as expected.