Hiroshi Hayashi was a member of the Omi Family and become a zombie in Yakuza Dead Souls
He was working for Akira Nishikiyama to kidnap Haruka Sawamura. Hayashi and his men meet Kazuma Kiryu at Mizuki's bar, Ares, on top of the Millennium Tower. Hayashi corner Kiryu and demands Haruka be handed over. Kiryu resists, defeating them.
Yakuza 2
Edit
In Yakuza 2, he has left the Omi Family and started working for Ryuji Goda and Go-Ryu Clan. Hayashi and seven men are sent to attack the transformer room that serves Kage's new surveillance point in the Millennium Tower. He is once again defeated by Kazuma Kiryu.
Yakuza Dead Souls
Edit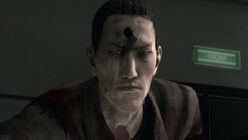 "Sweet death..."Hayashi becomes zombie.
Yakuza: Dead Souls :Akiyama. Hayashi becomes zombie and wore dirty clothes He have his cap cover his face and walking passing front of Akiyama and Hana to towards the building to hunt Yakuza. He enters the button to life down for him and a Yakuza man appears him and stop him and asking him what he doing here and Hayshi is speechless and then bites his neck. Then Hayashi in the lift to up. some Yakuza watched the camera that Hayashi bite him and they getting ready picking guns to kill him. Once the lift opens and Hayashi is still standing and then they shot him much blood. Then Hayashi's right eyes glowing red.
Hayashi appears in the lift again as Ryuji warned last Yakuza family. Once the lift opens,Hayashi disappears and they shocked,but Hayashi is wrpped up the top of lift where they didn't catch him. Then Hayashi gets downthe lift as they notices him and Hayashi is on the table and ready to bites the last yakuza. Then Yakuza people shots him and Hayashi avoids the attack and bites every one of Yakuza quickly. And he bite the last boss of Yakuza and Ryuji counterattack him away from the last Yakuza,Hayashi jumped back,but his cap is away from his head. Then Hayashi shows his face to Ryuji and tell him or himself. "Sweet...Death...."Then Hayashi tried to run away and Ryuji shots him and then Hayashi jumped breaking the wall.
Appearance
Edit
Personality
Edit
Ad blocker interference detected!
Wikia is a free-to-use site that makes money from advertising. We have a modified experience for viewers using ad blockers

Wikia is not accessible if you've made further modifications. Remove the custom ad blocker rule(s) and the page will load as expected.